Join Course & Distance as we offer you the chance to experience the Velka Pardubicka in the very best way possible - read what our guests thought.
Congratulations to ORPHEE DES BLINS in winning last year's Velka Pardubicka, the victory gives jockey Jan Faltesjek (who will be our guest speaker in 2013) his first victory in the race.
Richard Dunwoody MBE explained: "The Velka Pardubicka is a race that I look forward to every year and I've always tried to attend ever since my retirement from the saddle.
"There is a tremendous buzz before the race and it is one of the best spectacles in steeplechasing to watch the field streaming over the Taxis fence - it is a daunting and unique course and one of the most demanding steeplechases in the world.
"It really is a race that you've just got to go and see for yourself and to soak up the atmosphere at the racecourse - there isn't anything to compare it with. It is great racing and a fantastic weekend."
Our gift certificates make the perfect present for the horse racing fan in your life.
PLEASE BOOK EARLY, THERE ARE LIMITED PLACES ON THIS GREAT TOUR.
IT IS QUITE SIMPLY A UNIQUE RACING EXPERIENCE!
CALL OR EMAIL OUR OFFICE TO RESERVE YOUR PLACE.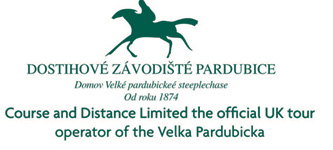 Express an interest in this trip
If you have a question relating to any of our advertised tours please call our office on 01427 839468. Mon - Fri: 9am - 5pm.
Alternatively, please enter your question below, leave your email address (we will only use it to reply to your query) and we will get back to you ASAP.
Testimonials
"... I feel that we were looked after very well right from the start of the booking process with yourself, right up until we left Kim's yard. Thank you once again." Hollie - Breakfast with Kim Bailey - March 2014.
"...We had a fabulous morning, thoroughly enjoyed it and very interesting! We felt the experience was very personal and very informal, but informative which was really nice. The surroundings are beautiful and yourself, Kim, his wife and Kerry were all very hospitable and very friendly. A lovely experience and a birthday gift that Nigel will remember." Christine - Breakfast with Kim Bailey - March 2014.
"...Mark and I had a lovely morning with Scott. The whole team were friendly and welcoming and we were treated to a delicious breakfast. We were taken around the stables and onto the gallops to see their horses in action and Scott kept us entertained with stories of the racing world. We were particularly impressed with his knowledge and enthusiasm which we found quite infectious. On a personal note, I fell a little bit in love with Sir Geoffrey! Overall, our children couldn't have picked a better birthday present for Mark. I'd also like to thank you for the lovely way the gift was presented and your prompt and friendly service.I have no hesitation in recommending this tour ," Karen - Breakfast with Scott Dixon - March 2014.
"...the morning with Brendan and his team (inc. Buster) can only be described as "Absoluetly fantastic and amazing".It's the best birthday present I've ever had. Anyone with a chance to go to Newlands should, without a shadow of a doubt. Thanks and keep up the good work! I would recommend your service and the tour to anyone..." Karen - Breakfast with Brendan Powell - March 2014.
"...Jamie thoroughly enjoyed his time with James and his team. He was made to feel very welcome and James was happy to spend a deal of time with him explaining what was happening and why at each stage of the stable work process. Jamie found it most enlightening. Please pass on his thanks to the team - particularly James, and also Jo in the office." Richard - Breakfast with James Ewart March 2014.
"...we had a fantastic morning. Scott, his team and his family were very friendly and did all they could to make sure we enjoyed ourselves. The breakfast was superb too! 10 out of 10 from us..." Holly - Breakfast with Scott Dixon - February 2014.
"...we had a fabulous time touring the stables with Kim and hearing stories of each of the horses and the workings of running the stables. It was mind blowing seeing the work and dedication from the team to keep everything running in a very professional and relaxed manner. It was also a bonus to meet Sam Thomas, who was there to ride some of the horses out on the gallops. The morning finished off with a well received hearty breakfast – many thanks to Kim's wife Clare. I would highly recommend the tour to any racing enthusiastic. We enjoyed it so much we would like to do it all over again..." Sandy - Breakfast with Kim Bailey - January 2014
"...we had a fabulous time - it was a great insight! Brendan is a true racing man and a lovely gentleman to go with it. Visiting the gallops was great fun and it was brilliant to see all the horses in the yard so happy.." Stephen - Breakfast with Brendan Powell - February 2014.
"...It was great to see what happens behind the scenes. Kim and his team are obviously very passionate about what they do and keen to share their knowledge which was great. It was very relaxed and you felt able to ask lots of questions. The breakfast was great too! I would thoroughly recommend the experience and would definitely use Course and Distance again..." Jackie - Breakfast with Kim Bailey - October 2013.
"...it was absolutely amazing! I would strongly recommend it to anyone. Kim was warming and friendly, informative and clearly extremely passionate about his work, which is a way of life. His wife's breakfast was superb, and all in all a fantastic way to spend a morning. Huge, huge thanks to Kim and his team..." Odette - Breakfast with Kim Bailey - September 2013.
"...my parents thoroughly enjoyed their morning, they couldn't praise Kim and his team highly enough. Everyone made them feel really welcome, they were given great insight into the training/racing profession and they were delighted to see the passion Kim and all his staff have for the horses. There was no skimping with the hearty breakfast either. A massive thank you to everyone at Kim's stables for making the morning so memorable. We will certainly recommend it to others..." Rosaleen - Breakfast with Kim Bailey - September 2013.
"...I had this fascinating and thoroughly enjoyable tour of Kim's stables bought for me as a present from my wife. The morning started with a guided tour of the stables by Kim and his assistant trainer Matt, followed by a walk up to the (very steep) gallops to watch his second lot work. We were talked through the potential and future hopes for each horse before retiring for a lovely cooked fry up by Kim's wife, Clare. Over breakfast we were able to pick Kim and Clare's brains about the workings of a successful stable. A wonderful few hours and a must for any serious racing fan..." Steffan - Breakfast with Kim Bailey - September 2013.
"...Brendan and his team were so friendly, helpful, and informative. We really felt like one of the family. They answered all our questions of which there were many. It was a fantastic insight into the life of the racing yard. Even the weather was kind! Very many thanks, Jane and John - Breakfast with Brendan Powell - September 2013.
"...we had a fantastic morning thank you! Andrew was over the moon with his present and it lived up to every expectation! I would like to thank you firstly, for the speed in which you organised the delivery of the certificate and badges and secondly, how beautifully they are presented - they look amazing and I'm very grateful! Brendan, his family and team made us feel very welcome the moment we got to the yard, we felt like we had known them all years, especially Brendan, very down to earth and we had his full attention and time. Breakfast was fab, taken with the stable staff on their break! Fab! We were looked after from minute we arrived to minute we left..." Tracy - Breakfast with Brendan Powell - September 2013.
"...the morning was absolutely amazing and I would recommend it to anyone. Brendan and his team gave us a great welcome and treated us like good friends. Brendan is one of the nicest person we've met in racing and will be following his horses closely..." James - Breakfast with Brendan Powell - July 2013.
"... we had a wonderful morning with Kim and his team. They were warm and friendly and we really got to know all about how the yard works. Kim is so very approachable and willing to answer any question..." Helen - Breakfast with Kim Bailey - March 2013.
"...my stable visit was excellent and very informative, Kim was an excellent host as were his wife and staff. I was very impressed with how attentive and friendly Kim was, and how he made me feel at ease. He talked me through all the horses he has stabled in the yard one-by-one then took me up to the gallops for first and second lot. I would recommend this tour to anyone who is interested in horse racing, I had a thoroughly enjoyable morning..." Ian - Breakfast with Kim Bailey - April 2013.
"...just to say we had an amazing time with Brendan and his team. Brendan was so welcoming and friendly as were all his staff. My wife has been interested in racing since her childhood and this visit lived up to all her expectations. Brendan was very open and informative and we could have chatted all day! We would thoroughly recommend this day to anybody with an interest in horse-racing. Thank you again," Robert and Gaby - Breakfast with Brendan Powell - April 2013.
"...we have all just had the most fantastic time, I have followed racing as man and boy for over 60 years and must say this visit was up there with my most memorable racing experiences. Brendan was nothing less than fantastic spending over three hours with us even though he had 10 runners at Lingfield that day. Thank you once again for organising this very special visit to a very special trainer and man..." Geoff - Breakfast with Brendan Powell - January 2013.
"...just a short note to say how much we enjoyed our tour of Craig Farm stables. The initial welcome from James on our arrival and the overall friendliness of all your stable staff ensured we enjoyed our entire visit from start to finish. The informative tour which took us through all aspects of your training operation (tack room, feeding regime, housekeeping of boxes, etc.) allowed us to get a first-hand insight of how an ambitious, hardworking stable operates and the care and attention to detail required to be successful. Highlights of the day for us were firstly, getting to see all the horses in the yard in their box and getting the lowdown from James on their progress to date and his expectations for the season. Secondly, getting to watch (at close proximity) a couple of lots working on the gallops. And lastly but not least, the wonderful breakfast laid on for us by James' mother. The hospitality was second to none. The passion and commitment that you guys have for your business clearly shone through and will not doubt go a long way to ensuring you make your dreams happen – which, as you clearly demonstrated, is why you do this job in the first place. We would certainly love to visit again in the future. Thanks again," Maxwell and George - Breakfast with James Ewart - November 2012.
"... just a quick line to say how much I enjoyed my morning on the gallops which exceeded my expectations. I got a real insight into the workings of a racing stable through the the walk up to the top of the gallop (steep), the exercising of the horses, tour of the stables and viewing of the practice fences and hurdles. Add a really good breakfast, including a glass of champagne, all in the company of Kim..." Derek - Breakfast with Kim Bailey - May 2012.
History
The Velka Pardubicka is a major event in the Czech social calendar and was first run in 1874.
The cross-country course comprises a spectacular mix of banks, hedges and ditches, which includes the daunting and infamous Taxis fence – jumped only once every year – and is run over a distance of four miles two-and-a-half furlongs.
The race always attracts a strong British and Irish challenge with Charlie Mann the last successful challenger in 1995, training and riding the winner It's A Snip
Never has the phrase 'horses for courses' been more apt, as the race has produced many multiple winners.
Maskul, bred by the Maktoum family at Shadwell Stud, won in 2002 and 2005, the mare Registana gained back-to-back successes in 2003 and 2004, then another mare Sixteen won in 2007 and 2008.
In 2011 the 10-year-old Tiumen, trained and ridden by the legendary Josef Vana sr, retained his crown again and joined the very select list of triple winners. The 58-year-old produced the winner on the run-in to thwart stable-mate Sixteen (Josef Bartos) inside the dying strides and so register an historic success.

Vana's victory was an amazing eighth as a jockey and ninth as a trainer.